During the COVID-19 pandemic Juan de Fuca Lawn Bowling Club (JDF LBC) has taken the safety of our members very seriously. Bowling has been modified to ensure all members are safe by adhering to the Protocols developed from the guidelines set out by BCCDC, Bowls Canada, Bowls BC and ViaSport. For more information, refer to the COVID-19 BOWLING INFO.
MEN'S & LADIES PAIRS and MIXED CUTTHROAT STARTING SOON
Our Juan de Fuca LBC Pairs & Cutthroat sessions are starting soon, be sure to sign up so you do not miss out on the chance to improve your game! No entry fee, no prizes, and due to Covid these sessions are for Training & Development. The purpose is to improve skills & strategy for when things return to normal post Covid. On each of these days there will still be a Green available for Open play. Check in time for all the above is 9:45 am.
Tuesday May 18th 10 am Men's Pairs- Steve H, the coordinator has sent an email to all men registered at JDF. If you missed the email, contact Steve. Deadline May 10th.
Thursday May 20th 10 am Ladies Pairs- Linda T is the coordinator, please contact Linda to join the sessions.
Sunday May 23rd 10 am Cutthroat sessions- Jack R is the coordinator and has asked all interested players to please contact Gary P to register.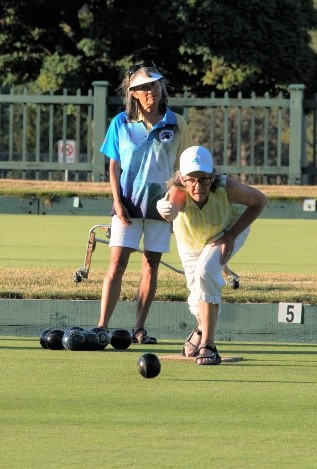 EVERYONE IS WELCOME
Opening Day Has Come and Gone and You Are Still Welcome to Join Our Club
April 24th was our Opening Day, and we are all looking forward to a new season AND we are still welcoming new members, please use the Contact Us page for more information. Below is a brief intro to how we are currently operating and what we are doing to ensure you are safe.
For 2021 all bowlers must be scheduled to bowl as per the Phase 2 Covid Protocol Bowling.

Bowling is only for scheduled players, no guests or spectators permitted.

We will have 13 game or practice sessions per week plus 3 coaching sessions.
Monitors will be in attendance for each session to sanitize equipment, greet you, check your form(s) and ensure everything runs smoothly.
There are 4 forms that must be completed before you step on the greens for the first time, and we will ensure you receive and understand them.

Symptoms Screening Questionnaire (SSQ) must be completed and signed with each visit to the Greens. All required forms are found here.

Clubhouse is now accessible, and masks are mandatory within. A maximum of six persons allowed in the Clubhouse at any one time.
Access to lockers unavailable due to Covid protocol.
Refer to the new COVID-19 BOWLING INFO tab for all Covid related information.
Come, have fun, and stay safe learning a new sport!