NEWS at a GLANCE on the WEBSITE For the latest news on events, fundraisers, website changes, policy changes within JDF LBC go to the page called "News at a Glance 2022".
CANADA DAY CELEBRATION FRIDAY JULY 1st
Tags in: 12:45 pm
Games Start: 1:00 pm
Game to be Played:               In the River (organized by Judy & Steve H)
Post Game Entertainment: Card Bingo, 50/50 and Trivia Game by our Trivia Expert – John Stonehouse
Nibblies & Cake to be served, Kitchen B will be open.
JDF LBC SALAD CONTEST after the Canada Day Bowling
For those of you who wish to stay and participate in dinner then consider this your invitation to the FIRST EVER JDF LBC SALAD CONTEST. If you like Salads, then this is your ticket to everyone's favourite salads. Select link to read the Poster.
DOLLAR SPOTTING
Please note that our Greens have been hit with 'Dollar Spotting' also known as the fungus 'Clarireedia Jacksonii' this is the reason D green has been closed, A, B & C are also slightly infected.
This fungus is not uncommon and affects our greens most years but not usually this early and is caused by low nighttime temperatures and dew dampness and if it seriously takes hold the greens could be in jeopardy.
All greens have been treated accordingly and D green will reopen Friday June 17, however it can be commonly spread by shoes from contact with other bowling club or golf course greens, therefore as a precaution we are requiring everyone who comes to bowl to spray their shoes with spray detergent and use the shoe cleaning machine, both are located at the left side clubhouse door, this is MANDATORY for everyone who comes to bowl at JDF LBC.
It will be the responsibility of all members to comply and for BSI Coordinators to inform all league participants accordingly. Please do your part to protect our greens, your cooperation is required and necessary.
MONDAY NIGHT LADDERS LEAGUE PLAY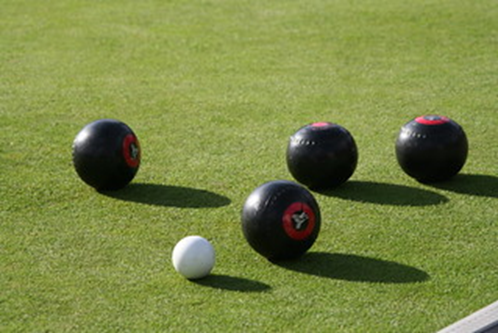 Monday Ladders is due to start at the end of the month on June 27th. This League is perfect for players of every level. The games are designed so that you play members of your own skill level making it fun and competitive for all players. To see a complete list of all Leagues offered as well as the Conditions of Play, Posters and History select League & Clinic Table.
BLACK & WHITE TOURNAMENT
We had a total of 24 teams competing in our Black & White mixed Triples Tournament held on Saturday June 11th, 2022, with 19 of our Novices participating, hopefully it gave them a taste of Tournament Play with many more on the horizon. Well done, Everyone, onwards and upwards 👍👏
Our big 50/50 winner was Lynda Bell with a wonderful win of $132.00.
Big Congratulations to the following:
Third Place: Linda Turnbull, Shelley Sanders & Mike Lee
Second Place: Harry Harrison, Cathy Robertson & Steve Horvath
First Place & Trophy Winners: Kim Engelstad, Steve Shulhan & Lynda Bell
JUBILEE PACIFIC PAIRS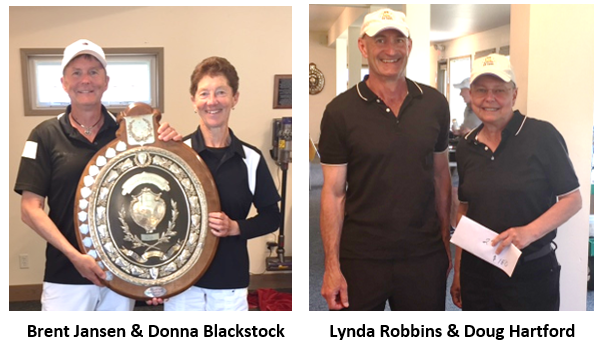 Congratulations to Lynda Robbins & Doug Hartford who went 5 wins and 0 losses and second place overall at the Jubilee Pacific Pairs held at Oak Bay LBC during the weekend and narrowly missing out on first place due to shot differential.
To Brent Jansen who along with Donna Blackstock of Oak Bay LBC also with 5 wins and 0 losses and first place overall and Trophy Winners.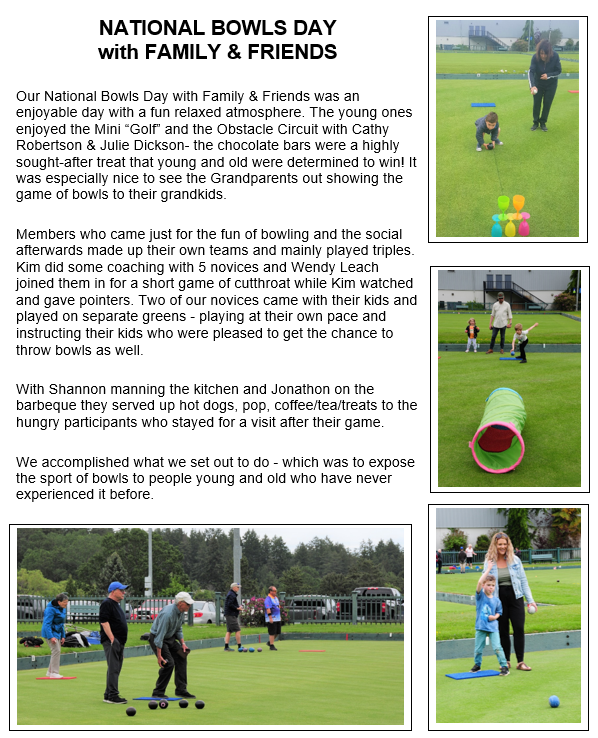 Select to view more pictures NATIONAL BOWLS DAY organized by Judy Hambleton.
SOUTH ISLAND WOMEN'S FOURS
The Woman's South Island Fours was held at Gordon Head LBC on Monday, Tuesday & Wednesday Evening this week.
Congratulations to all the Ladies who represented JDF LBC and competed in the tournament.
Top three game winners, first place overall and Trophy Winners to the Team of Anne Mathie, Jill Foster, Wendy Leamen & Linda Turnbull.
Top one game winner went to Julie Dickson, Wendy Leach, Marion Robertson & Judy Hambleton.
Well done to all, great outcome.
SOUTH ISLAND MEN'S PAIRS
Congratulations to the following Members who competed at the South Island Men's Pairs held at Central Saanich LBC on Saturday June 4th & Sunday June 5th.
Auzzie & Max Chambers, 'B' Division Finals Qualifiers Harry Harrison & John Turnbull 'B 'Division Finals Qualifiers.
Brent Jansen along with Brent Merchant of Oak Bay LBC, 'A' Division Finalists and third place overall.
Jack Robertson & Gary Paugh, 'A' Division Finalists and second place overall losing out on the final game.
ARCHIVED HOME PAGE ARTICLES:
TOURNAMENT RESULTS: GALLEON, ADSHEAD, SOUTH ISLAND MEN'S PAIRS, THE HEART TROPHY, LYNN McELROY, BARRY SKINNER, SOUTH ISLAND WOMEN'S FOURS, JUBILEE PACIFIC PAIRS, BLACK & WHITE,
SOCIAL EVENTS: OPEN HOUSES, OPENING DAY, CINCO de MAYO, VICTORIA DAY, NATIONAL BOWLS DAY, TEA DAY VOLUNTEERS NEEDED,
GENERAL NEWS: DOLLAR SPOTTING,
JDF LBC RESOURCES
Clubhouse Bulletin Boards:
Games: Your Games Committee have worked hard to ensure all the Posters for Leagues and Tournaments are displayed in a timely manner allowing members to be informed of what is happening currently and any upcoming events.
Social: Our Social Coordinator has her own Notice Board right outside the kitchen!
Novices': Check out our new novices' photos next to the "tag board", welcome them aboard by introducing yourself and saying Hi.
Coaching: Look for the latest news on coaching courses and pictures of our Club Coaches
Notice Board: A new addition this year is the notice board located on the wall outside the Clubhouse at the equipment shed end. Gary works off the Games Committee's notices to display all our League information and keep the Up & Coming Events current as well. Just don't interrupt him or you get a new game the committee knows nothing about called Rop In Bowling 😊
Website: All items on the Clubhouse Bulletin Boards are also on the Website (except the sign-up lists). One of the newest features on the website is the Calendar (under Bowling Events) which has all Club & BSI events entered on the correct dates.
Members: Last and definitely not least, are our own members. There is a wealth of information just waiting for you to tap into. If you want information that you can't find from the above-mentioned resources, then ask a member and if they don't have an answer, they will point you in the direction of the person who does.
WEBSITE
Our goal is to build the Website up as a useful resource for all things bowling. Our latest additions are listed below along with links. Please take some time to review what we have created. If you have requests or suggestions, CONTACT US and if possible, we will incorporate them. Currently what we have under construction are a Player Development page, Updated Photo Gallery, Online Registration for Tournaments, Tournament Histories and CoP. Lots to look forward to in the future.
2022 PROVINCIAL OUTDOOR CHAMPIONSHIPS
For all those interested in the Provincial Championships select the link below.
VOLUNTEERING AT THE BC SENIOR GAMES
For those of you who would be interested in volunteering during the Games, the link below has the registration info. Visit https://www.bcseniorsgames.net/vic2021/DesktopDefault.aspx
Select the "Volunteer Registration" option in the top left of the screen. Once you have filled out all your contact information, please select your sport as your first choice (there is no need to pick a second choice).
PRESIDENT'S CORNER – APRIL 2022
To see the complete message at the President's Corner under Members & Admin.